Exclusive overview of 10 Stunning Theatres from 10 Different Countries
While travelling around the world, most people want to see some stunning views, right?
Don't forget that theatres are often beautifully designed and built, making for some amazing views and sights you won't forget. As well as getting a good Insta pic, visiting theatres around the world is part of that country's culture and can enrich your travels so much.
Here are 10 of the most beautiful theatres in 10 different countries that you should feast your eyes on, listed by Sophie, who runs a theatre blog in Cardiff.
1. Sydney Opera House – Sydney, Australia
The Sydney Opera House is one of the most recognisable buildings in the twentieth Century. Opening in 1973, it has been home to many of the world's greatest artists and performances. It has welcomed more than 8.2 million visitors per year and presents more than 2000 shows for an audience of 1.5 million in a year and with no explanation needed, is a stunning location.
2. The Elgin and Winter Garden Theatre – Toronto, Canada
Owned by the Ontario Heritage Trust, The Elgin and Winter Garden Theatre Centre is over a century old and is simply beautiful. This Toronto-based theatre is the world's last operating double-decker theatre and is home to a variety of events and occasions: award shows, concerts, theatre productions, dance, fashion shows and so much more.
3. Odeon of Herodes Atticus – Athens, Greece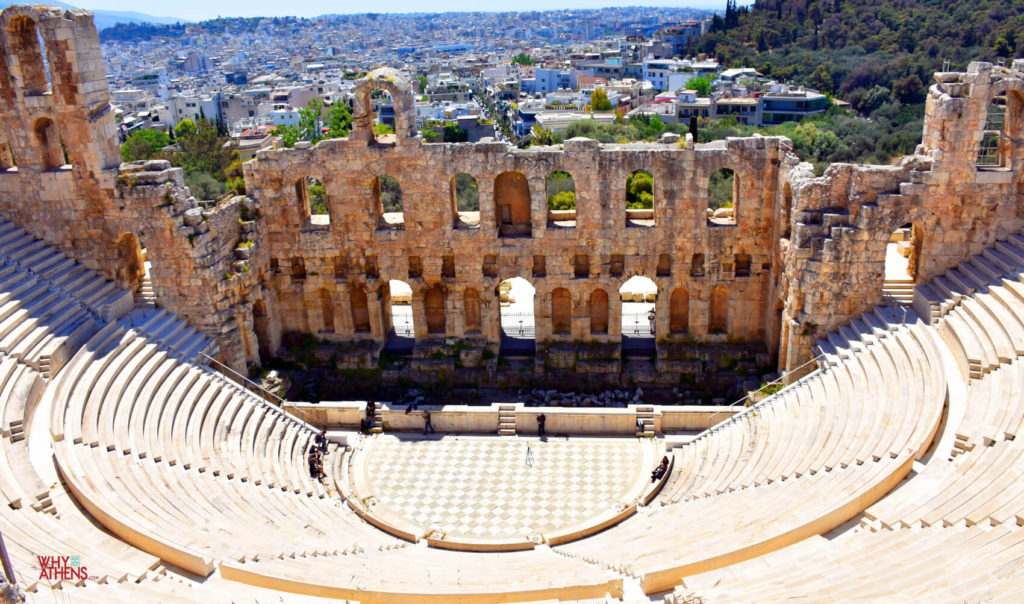 This Roman landmark was built between the years 160 and 174 AD by Herodes Atticus and is located on the southwest slope of the Acropolis in Athens. The theatre was used for the Athens Festival for the first time in 1955 and since then the Odeon has hosted almost all the leading artists and Greek and International Post-War music, dance and theatre. It's idyllic and such a historical and cultural venue to visit on your travels.
4. Palau de la Música Catalana – Barcelona, Spain
Built between 1905 and 1908, the Palau de Música Catalana is a concert hall in Barcelona. The concert hall was declared a World Heritage Site back in 1997 and it's not hard to see why. The venue is located in one of the most beautiful areas of Barcelona and hosts a variety of musical treats, ranging from operas to concerts, orchestras and classical music groups.
5. The Seebühne, Lake Constance – Austria
The Bregenz Festival is one that takes place every year, described as a visual spectacle, where a magnificent floating stage appears on Lake Constance. The Bergenz Festival began in 1946 and has grown with every year. Today, every July and August, the festival has a lively and varied programme that features a diverse range in orchestras, choirs and operas. A theatre like this is beyond unique so don't pass up the opportunity to see this spectacle if you're in Austria!
6. Tampa Theatre – Florida, United States of America
This non-proft theatre is where visitors can come to enjoy world-class entertainment under a realistic night sky in a Mediterranean-style courtyard. Featuring old-world statues, flowers and gargoyles, the Tampa theatre was built in 1926 and is now one of American's most elaborate movie palaces. In 1973, the Tampa Theatre was facing closure but committees and community leaders were able to rescue the theatre, making it a beloved community landmark, and one that should be on your list of places to see if you are in the area!
7. The Minack theatre – Cornwall, United Kingdom
While it may be obvious to name a theatre in London's West End to represent the United Kingdom – such as the classic Royal Albert Hall or Shakespeare's Globe – this gorgeous theatre on the coast of England takes top spot for me. With more than 170,000 visitors per year, The Minack Theatre is one of the world's most famous outdoor theatres. Its first performance was The Tempest in 1932 and the theatre continues to put on productions today with a combination of concerts, plays, musicals and more!
8. Heissiches Staatstheatr Wiesbaden – Wiesbaden, Germany
The Hessiches Staatstheatr Wiesbaden produces plays, operas, ballets, musicals and concerts on four different stages. The theatre is also the host for the annual festival "Internationel Maifestspiele Wiesbaden" which was established in 1896. This grand theatre is worth a visit if you're in the area, and is breath-taking to see in real life.
9. Estates Theater – Prague, Czech Republic
Whether you take a guided tour following in Mozart's footsteps or simply view this theatre on your own, it's a must-see when in Prague. The Estates Theatre has been part of the National Theatre since 1920 and is one of the most beautiful historical theatre buildings in Europe, operating continuously since 1783. You can catch an opera, drama or ballet performance here, or just pop by for the gorgeous views!
10. Palais Garnier – Paris, France
A theatre as beautiful on the inside as it is on the outside, the Palais Garnier was originally called the Académie royale de Danse (Royal Academy of Dance),when it was founded in 1661 by Louis XIV. It has since changed its name eleven times and in 1828 was finally named the Palais Garnier. The theatre is located in the heart of Paris so perfect for any trip to the city of Love. And here you can catch operas and ballets, or just admire the building's beauty.
So, there you have a list of some of the most beautiful theatres across the globe! This list is not extensive, and it was hard to narrow it down to just ten from around the world. Have you been to any on this list? What are your favourite theatres nationally?
Thank you to the lovely Sophie for Guest Blogging today at lifeofemmax.co.uk 
If you're interested in more theatre content, head over to OneWomanWestEndShow to read more!
Follow OneWomanWestEndShow on Instagram and Facebook to keep up with blogs and news.