Hello…. Now that autumn has crept upon us I thought I'd share will you all my favourite things to watch over autumn. The post will include; both TV and Films. There's nothing more satisfying than watching on your 4k HDR TV Panasonic, I always believe a good quality TV is a must in any household! So I am sure most of you have seen, the SKY Christmas channel has return… already. I haven't actually watched any of them yet.
I'm not a binge TV lover, so the programmes and films I watch have to have significant interest to me others I find myself bored and uninterested. An engaging film is a big MUST!
My favourite things to watch over autumn:
When Harry met Sally
One of my all time favourite movies – set in New York in Fall. The autumnal feel is just what I love about New York based films. The story line is based upon the two main characters 'Harry and Sally' who rekindle after 10 years apart. The 1989 American RomCom is a must watch for anyone who hasn't seen it yet.
Harry Potter and The Chamber of Secrets
Growing up in the 'Harry Potter' era, I just love watching a Harry Potter movie on a sunday afternoon when it's pouring with rain outside! Watching Harry Potter, Hermione and Ron grow up throughout the series of films was amazing! I have total admiration for JK Rowling being able to keep the audience engaged through the whole Harry Potter series. Are you a Harry Potter loather?
The Apprentice
Having studied a Business Management degree I have a very entrepreneurial side to me… hopefully one day to have my own business (watch this space). I love seeing the different characters of people who make the final 12 Apprentice candidates. From the amazing ideas, to arguments and 'Big Headed' individuals it is a good laugh to watch.
Home Alone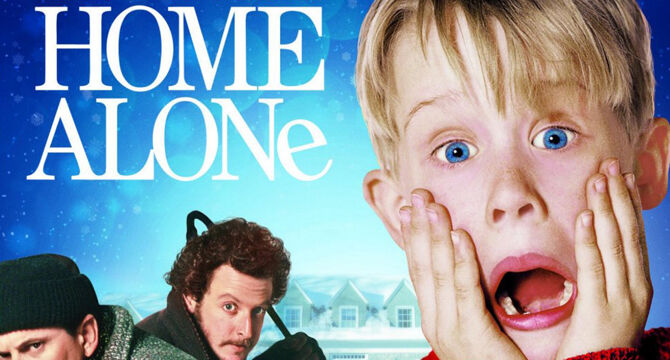 This one is a bit of a Christmas favourite, so its a must watch in November! I love Home Alone 1, 2, 3 and 4 it's the sort of film which will never grow old. Home Alone is the highly successful and beloved family comedy about a young boy named Kevin (Macaulay Culkin) who is accidentally left behind when his family takes off for a vacation in France.
The Great British Bake Off
I am sure this is amongst a lot of your favourite things to watch.. I've seen a lot of people tweeting and instagram about 'The Great British Bake Off' I don't know about you but it really gets me in the baking mood especially on a desserts night! I have to admit I did prefer the show with Mary Berry in it, but hey! I am still a big fan of the show.
These are just a handful of my favourite things to watch on the screen! I do love being outdoors but in the autumn the weather plays a bit part in allowing me to be cosy and warm at home.
Are you a binge TV watcher? I'd love to find out which shows you would miss for anything!
Love
        

Emma